THIS COMPUTER IS THE ONLY FAMILY COMPUTER YOU'LL NEED FOR A LONG TIME. ITS EASY TO USE, SET UP, AND WITH JUST A FEW CLICKS, YOU'LL BE SURFING THE NET IN NO TIME!!!
Software Included: Quicken, Money 98, Bookshelf 98, Encarta 98 & Many More...
Internet: 100's of free hours from todays top leading internet providers, plus all the software including media players to view the best Internet content. All Internet software is upgradeable through the Internet for free.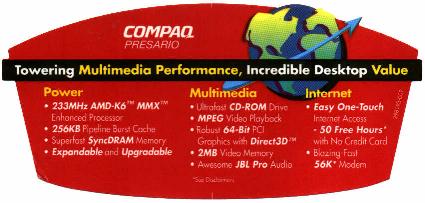 Condition: This computer is being sold by the owner in excellent working condition. Comes with Compaq Quick Restore CD which deletes all changes to the computer and re-installs all original software, drivers, etc. All manuals, original boxes, and even the sticker price will be included.