GPK HORRIBLE HORISCOPES SIGN THIS MONTH
Volume# 001 Number 001 ----------------------------------------------------Page 06----------------------------------------Wendseday, September 1, 1998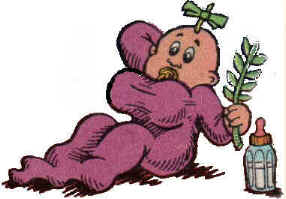 VIRGO
THE VIRGIN
(AUGUST 24TH TO SEPTEMBER 23RD)
VIRGO TRAITS: VIRGOS ARE OBSESSED WITH TINY DETAILS. IT WAS A NOTED VIRGO SCIENTIST FOR EXAMPLE WHO FIRST DISCOVERED THAT NO TWO DANDRUFF FLAKES ARE EXACTLY ALIKE!

PEOPLE BORN UNDER THIS SIGN ARE VERY VERSATILE THEY CAN DO EVERTHING FROM WRITING A SENSITIVE POEM TO REPAIRING AN AUTOMOBILE TRANSMISSION SYSTEM WITH EQUAL INEPTITUDE!
BEST QUALITY: POWERFULLY HIGH I.Q. WORST QUALITY: HIGHLY POWERFUL B.O.
ANNOYING HABITS: VOMITS IN PUBLIC. DOESN'T SPEAK FRENCH.
IDEAL CAREER: MANICURIST AT DOLPHIN GROOMING PARLOR.